The conference will take place at the Faculty of Arts, Aškerčeva 2. Contact information is available here and here.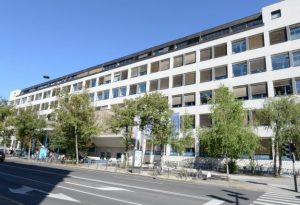 (Photo: M. Rebolj)
Travel
Ljubljana Airport is the closest but Trieste, Klagenfurt, Zagreb and Venice are all practical options as well. Ljubljana can be reached by taxi, shuttle, bus or train.
Accommodation
Ljubljana is a busy congress centre and hotels tend to fill up quickly, which is why we suggest making a booking as early as possible. We will send detailed information together with the notification of acceptance. Due to limited capacities, participants are requested to handle all arrangements themselves.
What to do in Slovenia
If this is your first time in Slovenia, you might be interested in visiting some well-known sights and places. For more ideas see Slovenia's official tourist information webpage.
Contact
All enquiries about the conference should be sent to 9biclce @ guest.arnes.si.
(Photo: https://www.medcruiseguide.com/)
(Photo: https://commons.wikimedia.org/wiki/File:Lake_Bled_from_the_Mountain.jpg)